A single house for rent and monthly rental in Hin Lek Fai subdistrict, Hua Hin district near popular tourist destinations. Close to the natural quiet and private.
To welcome the New Year's Eve festival Baan Rabiang Khao Resort come up with the promotion for a customer who wants a rental house in Hua Hin.
We have two houses in a vintage style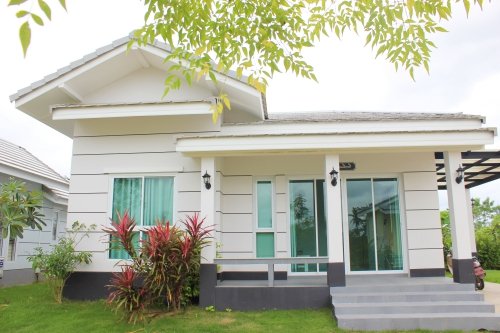 From normal price 15,000 baht to special price 13,000 baht within this
year.
A one-story house with 3 bedrooms and 1 bathroom outdoor type, kitchen and living room. Every room has furniture and air condition, full facilities and clean rooms, perfect for a family.
Description
- 1 house
- 3 bedrooms
- 1 living room
- 1 bathroom
- Full amenities Including electrical appliances, furniture and bedsheet
- Fully furnished, ready to move in
- Air conditioners in every room
- Next to the swimming pool
- Free Wifi
2. RuanRabiang Khao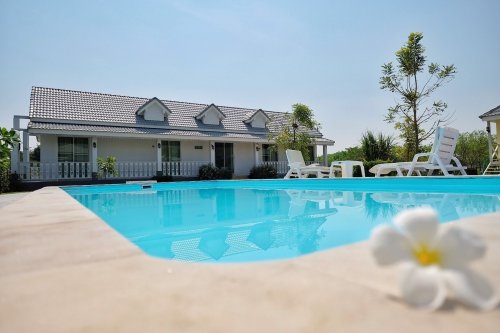 From normal price 7,700 baht to special price 5,500 baht within this year.
A superior with 5 large rooms which are divided into bedroom and living room area and en-suite bathroom. Suitable for a couple or companion, in front of the room decorated with a spacious balcony for relax and next to the pool.
Description
-1 room
- Bedroom zone, 6 ft bed size
- Living room zone
- 1 bathroom
- Fully furnished
- Complete electrical appliances
- Air conditioners in every room
- Next to the swimming pool
- Free Wifi
Baan Rabiang Khao Resort Private house in Hua Hin, located in Hin Lek Fai Subdistrict, Hua Hin District, Prachuap Province. Near to popular tourist attractions of Hua Hin, only 10 km away from the beach.
This is a vintage-style house. The surrounding atmosphere is surrounded by nature and very peaceful. It is a private villa. In addition, you can experience the sunrise and sunset views, so you can enjoy the pure atmosphere after getting through activities and tiring work. Don't have to rush in the morning because it's very convenient to travel because the resort is on Petchkasem Bypass Road (avoid traffic jams in Hua Hin city)
In addition, the resort also has a coffee shop available and organic vegetable gardens for you to eat as well.
Near popular tourist attractions of Hua Hin such as
- Huay Mongkol Temple 5 km
- Hua Hin Market 12 km
- Plearnwan 14 km
- Khao Hin Lek Fai Viewpoint 14 km
- Rajabhakti Park 24 km
- Chang Hua Man Royal Project 39 km
- Pa La-U waterfall 49 km
- Khao Sam Roi Yot National Park, 60 km
-Black Mountain Water Park 10 km